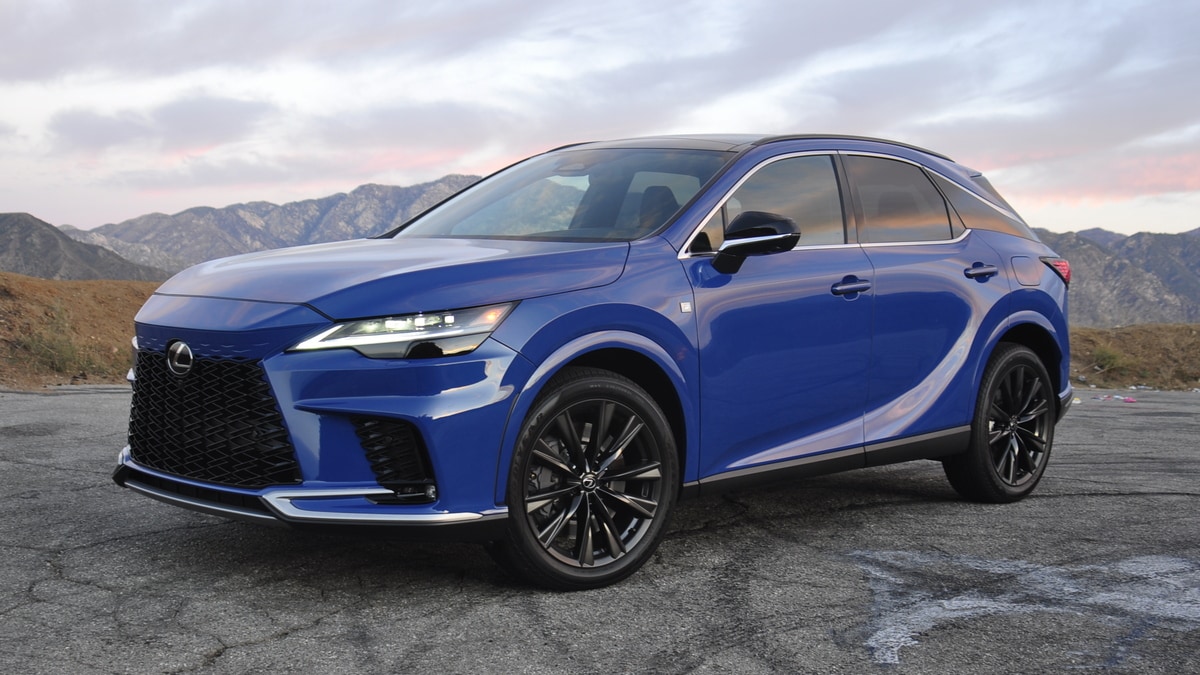 The Lexus RX is America's best-selling luxury vehicle. There is perhaps no more impressive award in the automotive world. When people can afford to reward themselves with a luxury car, this is the one they turn to the most.
The RX is all-new for 2023, redesigned from the ground up to preserve the features that made it so popular and inject new appeal. It's also incredibly reasonably priced. You can pay more for a less well balanced competitor. Forced to list a review of the new model, our test rider suggested that perhaps its popularity is a downside. That's how hard it is to find something wrong with the RX.
Lexus sells the RX in a bewildering array of configurations – with 10 trim levels and three powertrains, including two different hybrid models and two sports versions tuned by the Lexus F Sport performance shop.
Passenger space and comfort
While Lexus has a reputation that's different from other luxury automakers, it's all about comfort. Lexus vehicles are renowned for their comfort and quietness, enclosing their drivers in a world away from the traffic around them.
The 2023 Lexus RX is distinguished by rich materials arranged with understated craftsmanship.
The RX isn't the roomiest midsize SUV. Second-row passengers have a bit more legroom in an Acura MDX or Infiniti QX60. But its proportions are within an inch of most of the class in most measurements.
Where the RX really excels is in its tasteful design and wide selection of materials – up to 15 trim and upholstery combinations are available.
Most versions are equipped with 8-way power adjustable driver and front passenger seats. Deluxe trims replace the 10-way power driver and front passenger seats with 4-way power lumbar adjustment. F Sport models benefit from improved seat reinforcement.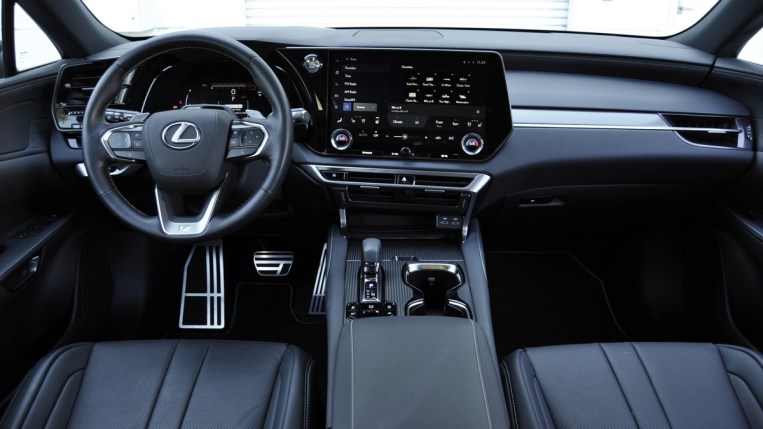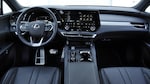 Features and technology
Lexus has redesigned its infotainment system – called Lexus Interface – for the 2023 RX. If you've driven an older model and remember the frustrating touch controller, you'll be happy to hear it's gone. In its place is a more intuitive touchscreen interface.
A 9.8-inch screen is standard, but the available 14-inch high-definition display makes for a stunning centerpiece.
An available head-up display can help keep the driver's eyes on the road. On F Sport models, it even transmits performance data like G-force. Buyers get a trial subscription to Lexus Drive Connect, which includes a voice-activated smart assistant that responds to natural language commands.
The available 1,800-watt Mark Levinson Pure Play Surround Sound System features 21 speakers.
Traffic Jam Assist, an option, can accelerate, brake and steer to maintain the car's position in low-speed traffic – and it wouldn't be a Lexus if it couldn't park. Available Advanced Park uses four cameras and 12 sensors to help enter and exit perpendicular and parallel parking spaces.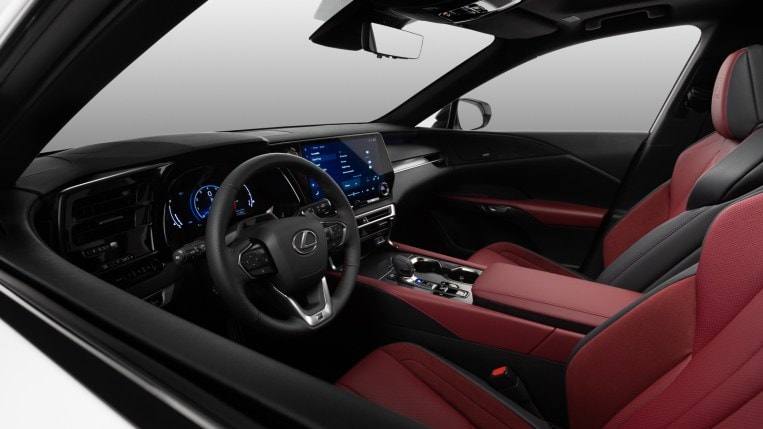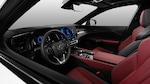 Materials and design
The RX is all-new for 2023. Lexus designers have kept the model's curvy design theme intact. But they've updated the look with a sharper hood and a more subtle version of Lexus' signature tapered grille. A cool gradient effect makes the grille appear to fade as it rises towards the bonnet.
A blacked-out C-pillar creates the illusion of a floating roof.
It's a great look, and Lexus designers are enhancing it with one of the most adventurous color palettes in the luxury car market. In a year where most automakers seem to only offer shades of gray, Lexus will build you an RX in Matador Red Mica, two jewel blues, a gorgeous understated green called Nori Green Pearl, or a unique metallic brown hue called Copper Crest. which catches the light beautifully.
That bespoke sense of character carries over to the interior, where more than a dozen upholstery and trim combinations are offered. Designers broke out of the usual mold with options such as door panels in a wool-like material with great visual depth.
Upholstery choices include semi-aniline leather and an eco-leather alternative, NuLuxe.
Cargo space and flexibility
The famous curvy look of the 2023 Lexus RX takes away some space – a concession to style. This shows in the cargo volume, not in the passenger cabin.
The 2023 Lexus RX offers 29.6 cubic feet of cargo space when the rear seats are up. That's a competitive number for its class, as the Genesis GV70 offers a little less at 28.9 and the BMW X5 a little more at 33.9.
With the power-folding rear seats lowered, the RX has 46.2 cubic feet of space. This figure is slightly lower than the class norm. The GV70 has 56.9 cubic feet, while the X5 has 72.3.
Build and price your own version of the 2022 Lexus RX to see this week's Kelly Blue Book Fair purchase price, 5-year cost of ownership, and more, or Discover RX models for sale near you.